Rates of pay
Non-union pay for regular background work is $14/hr.
SSE rate (special skills):
$36.75/hr ($55.25/hr overtime)
Fittings:
You will be paid minimum 2 hours at $14/hr for fittings.
Tax:
Production does not tax you. However, you are responsible for reporting your earnings to the CRA. Your T4 will be sent to you yearly. If you have not received it, please email [email protected] with "T4" in the subject line.
Voucher
You will receive a voucher upon sign-in. It is important that you print the following information on the voucher and make sure to sign out with your "end time". This determines your pay. Make sure your voucher is fully legible.
Your full legal name

Your SIN

Our agency address:
C/O Toronto Talent Agency
PO Box 54024 – Lawrence Plaza
Toronto, ON M6A 3B7
Below is an example of a non-union voucher. The yellow highlighted area is for you to fill out.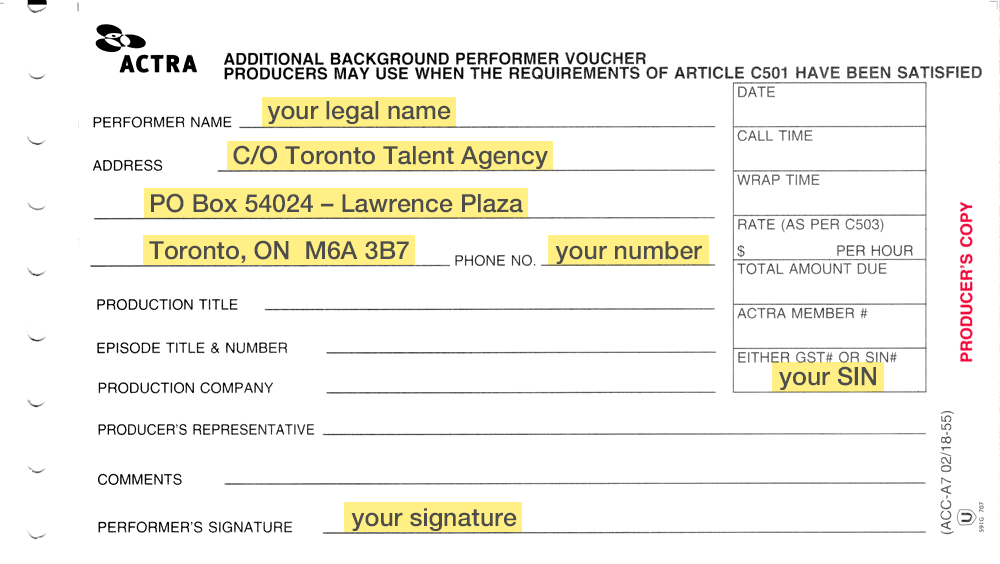 TTA membership fee
Our membership fee is $75 (flat) per year. However if you are an ACTRA member, under 18 or 65+ your membership is free. Membership allows your talent profile to appear in our database which can be accessed by casting directors and our agents in order to match you up with jobs. All parties with access to your profile will agree to our Privacy Policy.
We do not keep payment records on file therefore we will not auto-renew. We will send you a renewal reminder one month prior to your membership expiration date. If you choose not to renew your profile will no longer appear in our talent searches.
Commission
Background performers are required to pay a commission for the work they are sent out to do.
You will be paid extra for travel time (outside the GTA), fittings, using your vehicle on set, using your pets on set, tuxedos, etc., and this additional payment will also be subject to commission.
All commissions are calculated on gross earnings, not off the net.
Our commission fees are as follows:
| | Non-Union or AABP | TTA or ACTRA Members* |
| --- | --- | --- |
| Regular background performances | 15% | 10% |
| Commercials, music videos, upgrades, vouchers | 15% | 15% |
| Print | 20% | 20% |
* Anyone with an active TTA membership as well as Full or Apprentice ACTRA members or AABP.
Commission payment
For non-union and AABP:
Your cheque will arrive at our office directly from production within 14 business days. Once received, we will invoice you and payment is due on date of invoice. We will mail your cheque once payment is received. Do not pay commission until you are invoiced.
If you do not use a credit card, debit card, or Apple Pay, please inform us at [email protected].
For ACTRA members:
Commission is due upon receipt of your cheque. A late payment fee will apply after 30 days (see below).
Always send a photo of your pay stub and the blue or pink voucher to [email protected]. This is to confirm the show you are paying for and the amount you owe.
Your commission can be paid by credit card, debit card or Apple Pay via the invoice we send to you. If you prefer to pay by cheque, please send it to:
Toronto Talent Agency
PO Box 54024 – Lawrence Plaza
Toronto, ON M6A 3B7
Fees
Cancellation fee:
If you are booked on a production and need to cancel you must inform us of the cancellation at least 24 hours in advance of your call time. Performers who cancel less than 24 hours before their work day will be charged a $20 cancellation fee.
Late fee:
If you are late to set and we are not notified, you will be charged a $15 late fee.
No-show fee:
If you fail to show up for your work day you will be charged a $30 no-show fee.
Late payment fee:
If you don't pay your commission within 30 days of your work day you will be charged $10 per month until your account is paid and up to date.